UPDATED 6/9/2022:
Cleaned the tank, reduced prices, and reorganized the listing a bit.
This is equipment only, no livestock is for sale (I gave most of it away).
180G Display Aquarium, Stand, Canopy, & Side Cabinet - $1200
Aquarium is 22 3/4" deep x 24" tall x 78" wide
Total height (stand/aquarium/canopy) is ~76"
Stand/canopy add ~1 1/2" to width and 3/4" to depth (at the front)
Drilled in the back panel for 2 - 2" drains and 4 - 1" returns, bulkheads included for all 6
Initial drain/return PVC plumbing can be included if desired
Stand and canopy are made by Joe (jmawoodworks) with cherry finish
Stand is 33" tall and has a door on the left side, with the entire front panel is able to be removed and it has an open back
Canopy adds ~18" to overall height and has a door on the left side, the entire front hinges upwards. Has mounting bolts in the top to hang lighting from as well as panels for the back to keep things enclosed. Includes 2 - 200mm fans (12v, includes power supply) mounted in the back panels (all back panels are removable with wing nuts).
I want to keep this set all together as the stand and canopy were specifically made for this tank
Please keep in mind this is VERY large and VERY heavy. It will definitely require you to bring helpers in order to move (I recommend at least 3 people when moving the aquarium itself).
Here is one picture of the stand & aquarium with the stand front panel is off (panel is included, I just had it off while taking the picture to show the inside), one picture of the stand and canopy when I got them from Joe (no aquarium), and a picture of the side cabinet.
Cherry Stained Cabinet
This is a 3 section (2 enclosed with doors, 1 open) cabinet meant for standing alongside the left side of the stand/aquarium/canopy
Has a panel on the right side to extend from the rest of the cabinet so the left most return pipe is not interfered with
Approximate dimensions are 13" deep x 76" tall x 25 1/2" wide
Cleaning supplies are not included
Rubbermaid 300G Stock Tank - $250
Has 3 - 3" bulkheads located as shown in the attached pictures, bulkheads (not shown, removed for cleaning tank) WILL be included as part of the price.
Approximate dimensions 63" x 69" x 25"
If desired I will include the wood platform and foam panels I had placed under this as well as the plexi/wood lids I made to help cover it (at no extra cost)
Please keep in mind the size when picking up or thinking about where you will place it.
Rubbermaid 100G Stock Tank - $125
Has many drilled holes of a variety of sizes (the largest being a single 3"). This was the initial sump and as such had multiple holes for drains, passage to the 300G stock tank, water level sensors, etc... Bulkheads are included for ALL the larger (1"+ holes) only 1 of which is not shown in the attached pictures. There are 4 smaller holes used for sensors (circled in red) that are NOT guaranteed to have bulkheads. If I find some I will include them, but do not count on any. The true union valve attached to the drain will be included as well.
Approximate dimensions 31" x 53" x 25"
If desired I will include the 2x4/plywood platform and foam panel I had under this as and the plexi/wood lids I made to help cover it (at no extra cost)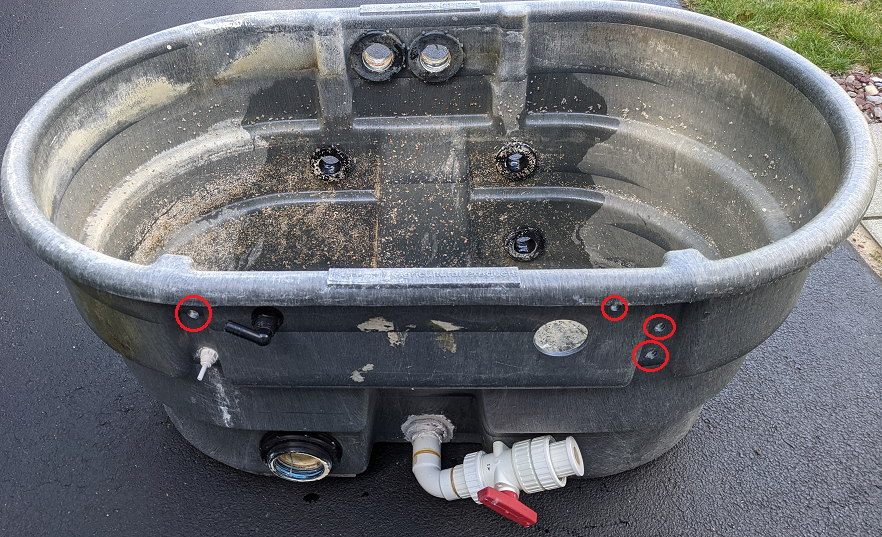 LED Lighting (Relassy Dimmable Reef Light) - $50 each (3 available)
Include power cord and hangers, the oldest is from September 2020, with the newest from February 2021 and the middle from December 2020. All 3 are working fine and look basically identical. They were mounted in the display canopy.
Older Sequence Dart Pump (works fine) - $100
Freebies (if desired) when buying multiple things together:
Buying both stock tanks I can include the plumbing I used for connecting the two (a section of 3" PVC with a 3" true union Hayward valve)
Buying both stock tanks AND the DART I can include the initial (to the DART) plumbing that connected to the tanks. This is 2 sections of 2" PVC pipe with multiple valves (it could be set to pull water from either stock tank)
Buying both stock tanks, the Dart, and the aquarium/stand/canopy... I can also include all the drain/return plumbing which consisted of 2" PVC drains, a 2" initial return that split off to 4 - 1" pipes (for each of the return fittings on the aquarium)
I have more things (heaters, UV sterilizer, skimmer, etc...) if someone is interested...
Last edited: