I'm breaking down the tank for set up in a different location. It will be a delayed move so I can't keep things running during the transition. Breakdown will begin on Friday, May 23rd with pulling the rock and corals. Then, Sunday the 25th I'll net fish. So plan on picking up fish, rock, and/or corals preferably on Sunday or Monday the 25th/26th. PM me for details and address.
All fish are fat and happy pigs. I feed the whole lot 1 or 2 Nori sheets a day plus blood worms and other goodies off and on. The Mandarin has little competition for food and there's plenty in the rockwork. I do supplement with Reefstew a little more than once a month.
The fish have been in the tank for over a year and a half with no issues. Some have been in the tank for years.
I have a 55 gallon frag tank full of goodies that I'll have to figure out what to do with. If you see something in there that you like we can figure something out.
Fish:
$5 each ** 4 Black Gold Chromis - Adults 2-3 inches
$5 each ** 5 Blue or Green Chromis - 1-2 inches
$15 ** Clown Fish - 2+ inches
$35 ** Blue Mandarin Dragonett - 2+ inches
$25 ** Spotted Hawkfish - 4 inches
$60 pair ** Blue Lined Rabbit Fish 6 inches
$50 ** Yellow Tang - 3-4 inches
$100 ** Blue Hippo Tang - 8 inches
$10 ** Pajama Cardinal
$50 ** Kole Tang (AKA Goldeneye Tang) - (tentatively spoken for)
$75 ** Sailfin Tang - (tentatively spoken for)
Coral:
Easy corals... unmounted:
Free ** Kenya Tree
$5 frag ** Leather Finger Coral
$5 frag ** Green Fuzzy Mushrooms
$5 frag ** Leather Coral
$25 ** Sea Apple
Live Rock:
Various sized rock from rubble to approximately 15 pounds. Aiptasia and algae is in the tank. No other known pests...
Mark's rock is nice stuff. This is just good old matured rock. The tank has been going for just over 10 years.
$2 pound
Rock with mushrooms and/or corals. - priced by the piece.
Sorry about the pictures. I didn't have time to clean the glass first.
Chromis, Sailfin Tang, Yellow Tang, and Blue Lined Rabbit Fish
Kole Eye Tang, Sailfin Tang, Yellow Tang
Black Gold Chromis
Clownfish
Blue Mandarin Dragonett
Blue Hippo Tang, Sailfin Tang
Blue Hippo Tang, Clownfish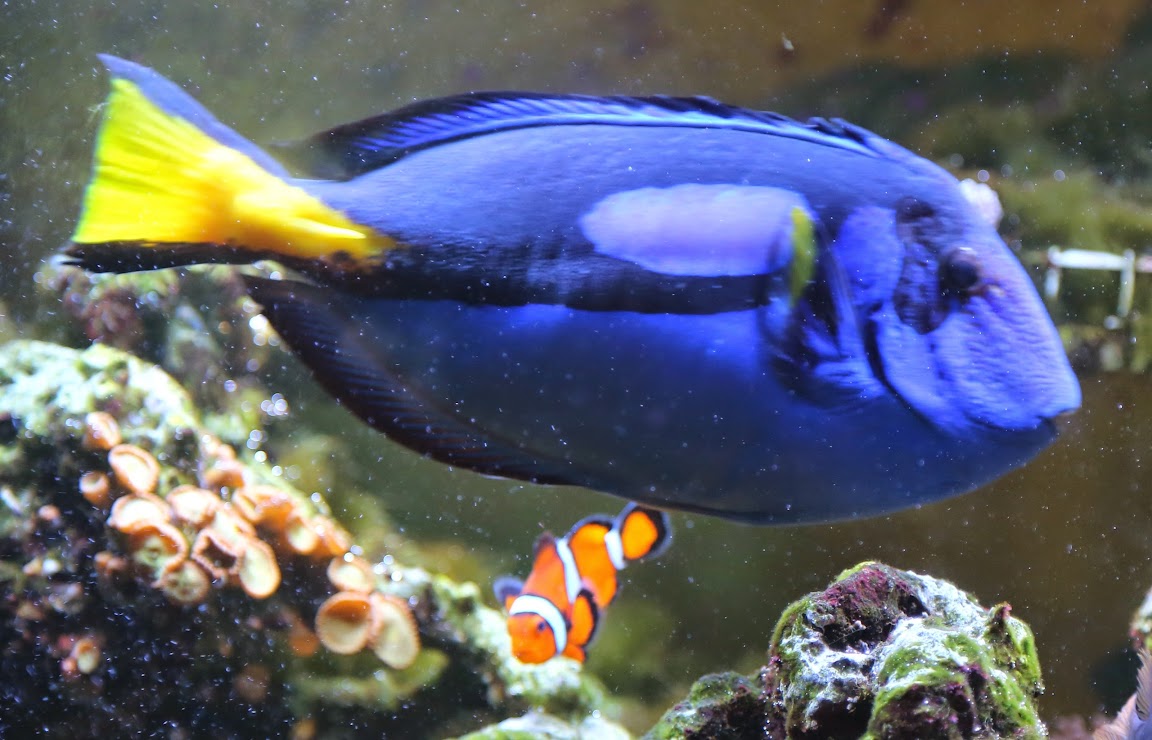 Lawnmower Blenny (not for sale), Spotted Hawk Fish
Fuzzy Mushrooms
Mushroom Rock