Hi everyone! Just wanted to start a thread to show everyone how busy I've been lately with my new project. It sort of came about all of a sudden about a month ago so planning in still in the works as I don't expect the whole tank to be fully done or quite some time. I finally caved in and bought a 180 because one of my coral tanks started leaking and another 55 gallon had its cross brace broken in half mysteriously. Here's a pic of the damage:
So I plan to move stuff from my 55 to my 75 and the stuff from the 75 and the coral tank into the new 180. Lots o' stuff to move and hold in tubs for a long period of time bothers me, but I had to do it.
The tub with my sps and clams: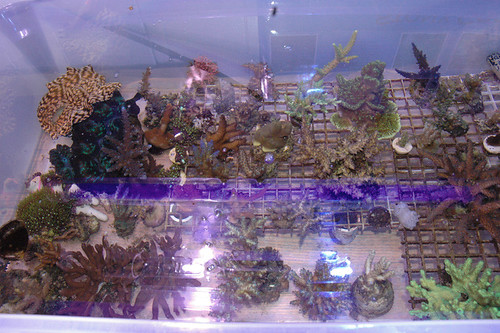 More tubs with LR for the 180:
So what about the tank you ask, well I'll tell you. I just went and got it today. I drove 3 hours each way to Columbus, OH to meet the truck in the back of a waffle house, lol. Well here is everything, mind you I'm only a college student on a tight budget here.
180 Glasscages 72X24X25 Eurobraced Reef-Ready Aquarium w/ 2
overflows: hole sizes are 1-1/2'' and 1''
40 gallon breeder All-Glass sump, I know bigger would be better,
but I already had the tank. There will only be two baffles and
a large area for a refugium. I have never had problems with
either of the skimmers producing microbubbles.
DIY PFO Reflector with 2 SE MH's, mind you only about half of the
tank will be lit until I save money for 3 Lumenarc III reflectors
and the extra ballast and bulb.
AquaC EV-180 plus a EuroReef CS80 skimmers
Pan World 200PS @ 1750gph return pump dialed back a little.
1200gph after head loss which is a little less than what the
skimmers use.
I have about 100 lbs. of Figi and Marshall Island LR so far, will cure
more later to add slowly to the tank.
I have 300 lbs. of southdown sand, but I plan to use much less for a
SSB
Pumps, yes the pumps... This area I need help with. Not sure what
brand or specific type I want yet, plus I still need the money.
I didn't drill the tank for a CL so I will need some pretty strong
powerheads.
I plan to make my tank into an sps reef with a medium fish load, but mainly to allow the sps to grow out nicely.