Modernization construction happening soon for my classroom so I have to get rid of stuff. Palludarium is basically two aquariums stacked and sealed together with a hole in the bottom of the top aquarium. Plumbed to pump water from bottom tank to top tank as waterfall down the back. Tank is not running now. Was still trying to figure out accessibility (maybe cutting doors in the side of top tank??).
LED fixture for bottom tank not included. Top tank has piano hinge, fans, and dual T5/metal halide fixture. 8 brand new spare T5 bulbs included.
Original stand was cut into a little pedestal.
Really wish I could look forward to getting this tank set back up, but sadly, nope. I would definitely change out the substrate for the bottom..
Anyhow, hoping someone here might be interested in setting this tank up.. Priority to anyone who might be interested in donating a little cash for future classroom endeavors, or for frag trade to further stock my daughter's tank (and provide stock for possible future nano setup for classroom..). Otherwise, really hoping the work I put into this can go to someone who will appreciate this type of setup. Just the plumbing was more than $100.
FREE Reptibreeze chameleon cage- 30 x 16 x 16", took it apart and have no idea where screws went, so you would need to get some..
Pick up in Cerritos, or can bring chameleon cage home to HB..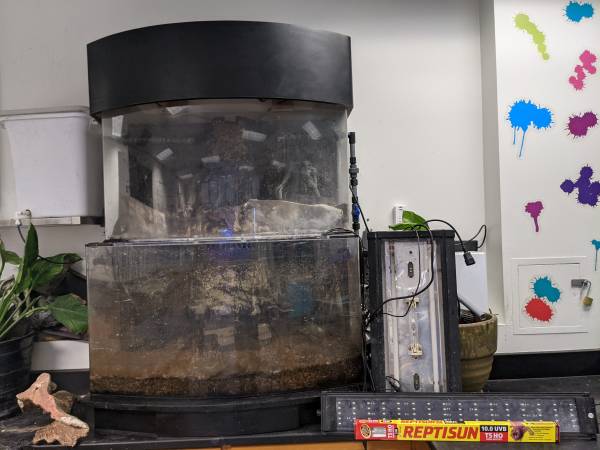 Sent from my Pixel 4a (5G) using Tapatalk